WebWizards® is your local source for all things related to the web. We offer traditional web presence and graphic design services for individuals and small businesses.  We help you slay your Internet dragons.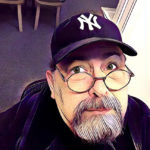 Chick Ciccarelli is the CEO of WebWizards®. He is a senior-level executive with 40+ years experience in advertising and specializes in brand strategies and web development.
Formerly the CEO of MediaBuys, LLC, once the largest media buying club in the nation and ad agency of record for the City of New Orleans to find sponsors for Mardi Gras (after Hurricane Katrina). Chick signed Glad Products as the event's first major sponsor ever (in 150 years). Additional design projects of note include GRAMMY® Awards, Latin GRAMMY® Awards, Latin Songwriters Hall of Fame, EIF's GRAMMY® Jam, MusiCares®, the BFCA's Critics' Choice Awards®, the Sundance Film Festival®, RKO Distribution® and the Hollywood Symphony Orchestra®.
Chick has won numerous national design awards in both print and web development and was honored by the Smithsonian Institute for his promotional contribution to the historical Voyager flight around the world. He is a member of the National Academy of Media Arts & Sciences and a finals judge for the International Business Awards (The Stevies). Visit Chick's art direction website here: https://chickc.com

Awards
City of New Orleans, Appreciation Proclamation (2006)
City of Los Angeles, Certificate of Appreciation (2005)
Who's Who World, Marketing (2004)
Who's Who of America, Marketing (2003, 2004)
EPpy Award Finalist, MediaBuys.us (2003)
U.S. Small Business Advisory Council Web Awards, (2001, 2002)
Macromedia Site of the Day-Configurator (2000)
Most Humorous Website Greedypeople.com, Hon Mention-L.A. Times (1995)
Certificate of Honor from Smithsonian Institute for Voyager Flight (1987)
Printing Industries of America Awards (6 total-1985, 1986, 1988)
Art Directors Club of Los Angeles (4 total-1987)
Business Professionals Advertising Association (2 total-1988)
American Institute of Graphic Arts Awards (4 total-1986, 1988, 1990, 1991)
We are dedicated to the highest level of customer service, delivered with a warm smile, friendly attitude and individual pride, knowing that we have provided a valuable service to all who have sought our expertise.